9 BEST INDUSTRIAL CLEANING CHEMICALS TODAY.
Industrial cleaning chemicals play a crucial role in maintaining cleanliness and safety in factories, workshops, buildings, and other industrial settings. By eliminating impurities and harmful bacteria, they not only ensure that the products meet quality standards but also provide a cleaner working environment for customers. So, which industrial cleaning products are currently popular on the market? Let's find out in the article below!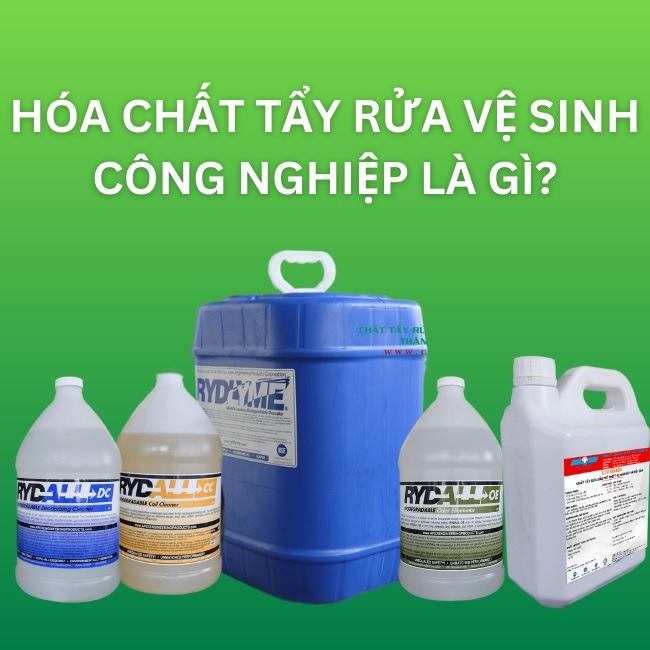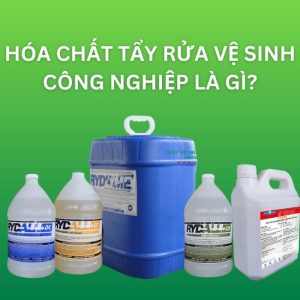 What are industrial cleaning chemicals?
Industrial cleaning chemicals are specialized chemicals used to clean and remove dirt and deposits from surfaces in factories, workshops, buildings, and other industrial settings. These chemicals are formulated from various chemical components and have the ability to bleach or dye.
Industrial cleaning chemicals can be applied in various situations such as:
Cleaning surfaces such as floors, walls, and office supplies.
Cleaning industrial equipment, metal tools, and machinery.
Removing oil, grease, rust stains, scale deposits, and polishing metals.
Cleaning carpets, kitchens, and various other surfaces.
However, when using industrial cleaning chemicals, users need to be cautious to avoid harming their own health and the environment. Therefore, users should follow safety instructions and equip themselves with proper protective gear to ensure safety during the usage process.
Since different types of chemicals are used to clean different surfaces, it is important to choose the appropriate chemical to ensure effective cleaning. At the same time, it helps minimize the adverse effects of chemicals on health, equipment, and the environment.
Effective and safe industrial cleaning chemicals
Currently, there are many industrial cleaning chemicals available on the market, making it difficult to choose the right product for specific needs. To assist customers in achieving effective industrial cleaning, below are some of the best cleaning products available today!
Bio-degradable descaling agent – RYDLYME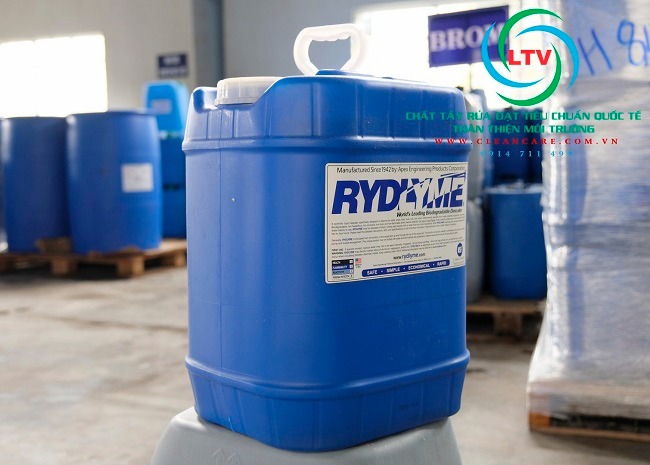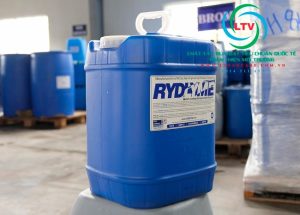 RYDLYME is a biodegradable descaling agent that is non-hazardous and non-toxic. RYDLYME is imported from the United States and has laboratory certification from the EPA. RYDLYME can be used for:
Removing scale deposits in boilers, cooling towers, condensers, refrigeration equipment, heat exchangers, etc.
Effectively and safely removing scale, calcium, lime, and rust stains.
In addition, RYDLYME offers the following outstanding advantages:
12 times more effective in scale removal compared to other conventional cleaning agents.
Quick and thorough cleaning in just a few hours.
RYDLYME does not require mechanical action such as scrubbing or pressure spraying, and there is no need to treat wastewater during the cleaning process.
RYDLYME is non-corrosive to materials, allowing for synchronized cleaning of the entire system.
Time-saving as no dismantling of any parts or components is required.
Safe for users, machinery, equipment, and the ecological environment.
RYDLYME can be safely used on materials such as iron, steel, copper, glass, nickel, rubber, brass, plastic, ceramic, stainless steel, titanium, fiber, and other materials in water-based equipment or systems.
Surface cleaning and degreasing agent – RYDALL DC
RYDALL DC is an all-natural, environmentally friendly industrial cleaning water. RYDALL DC is entirely safe for users and is used for cleaning stains and eliminating odors on various surfaces.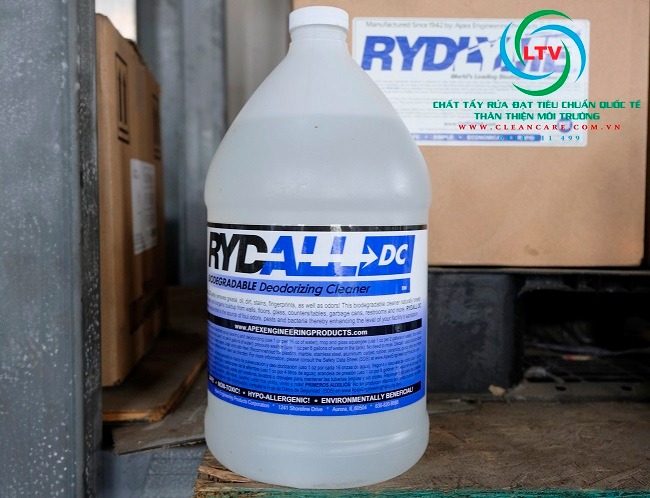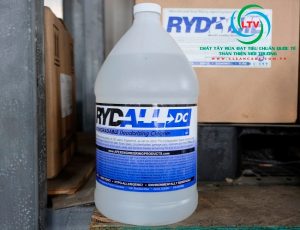 RYDALL DC is a versatile cleaning and deodorizing agent that can be used in various situations such as:
Cleaning and deodorizing clean floors without foaming.
Removing stubborn odors and stains on carpets.
Ensuring safety when used in dining areas such as kitchens, food courts, and self-service restaurants.
Cleaning and deodorizing other surfaces such as glass, vinyl, rubber, etc.
With excellent cleaning capabilities, this product helps industrial areas become cleaner and more efficient. This also means that the production process is optimized, resulting in time and cost savings.
With ingredients derived from nature, RYDALL DC is not only environmentally friendly but also ensures safety without causing irritation to users.
Coil and heat exchanger cleaning solution – RYDALL CC
RYDALL CC is an industrial cleaning solution used to clean coils and heat exchanger grids of condensers, evaporators, or any other cooling/ heating devices with fins.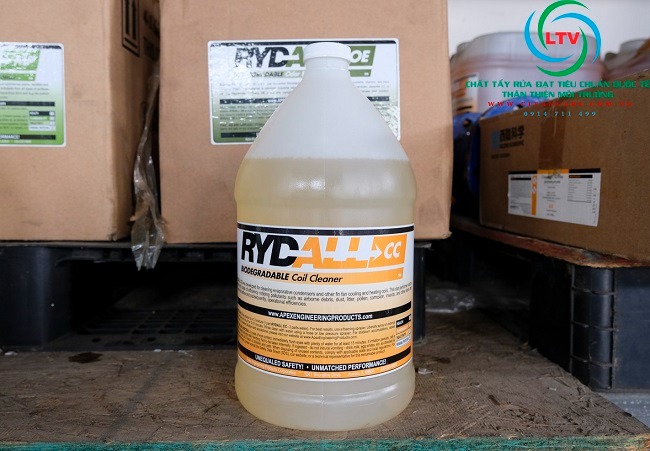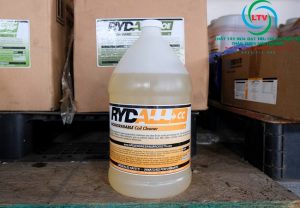 This is a non-toxic, non-corrosive, and biodegradable solution. RYDALL CC is widely used in businesses of all sizes worldwide.
RYDALL CC is a strong yet safe cleaning solution that can be used both outdoors and indoors. The product does not have any corrosive effects on the surface of the equipment, making it a preferred choice for cleaning sensitive parts of air conditioning units and cooling fans.
RYDALL CC is designed to remove heavy deposits such as oil, grease, dirt, and other deposits that adhere to metal parts. This product has the ability to clean deeply and quickly without the need to remove components from the equipment, saving time and effort for maintenance.
Kitchen, floor, and engine degreaser – RYDALL MP
RYDALL MP is a versatile degreaser used in industrial, commercial, and building facilities. It effectively removes various types of oil, grease, dirt, and lubricants from kitchen surfaces, floors, engine parts, and more.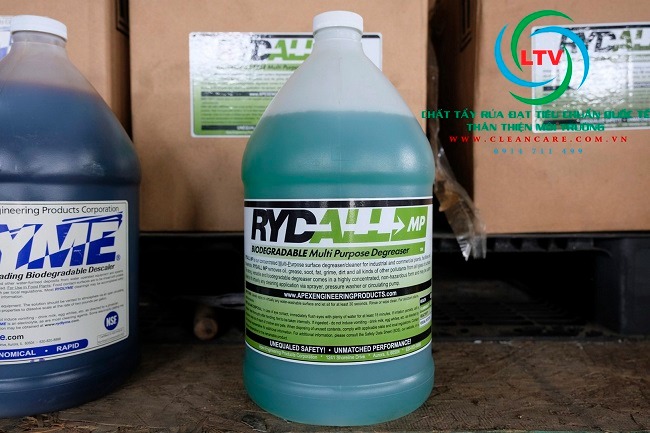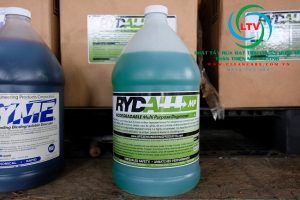 The product offers powerful and versatile cleaning capabilities and is also biodegradable. RYDALL MP is highly concentrated but still ensures safety for humans and the environment, and it can be diluted according to specific needs for various applications.
RYDALL MP offers several notable advantages:
Acid-free, non-flammable, solvent-free, and odorless
Biodegradable
Imported from the USA, NSF A1 certified
High efficiency, effectively cleans stains without corroding surfaces
Suitable for a wide range of surfaces such as metal, rubber, plastic, ceramics, and others
With its powerful cleaning ability and environmentally friendly nature, RYDALL MP is a safe and effective choice for industrial facility and building cleaning.
Industrial odor eliminator for farms and industrial waste – RYDALL OE
RYDALL OE is an industrial odor eliminator designed to remove odors and prevent corrosion, without the use of harmful chemicals or masking fragrances.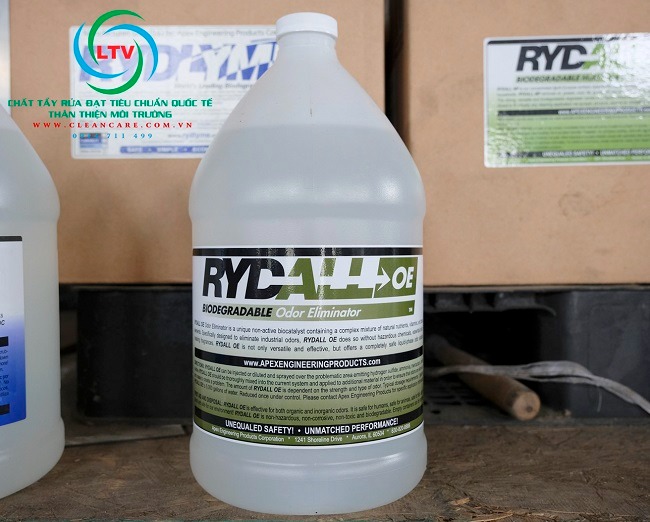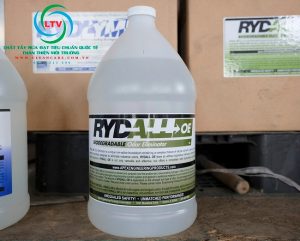 Unlike other odor control chemicals, RYDALL OE not only masks the source of the odor but completely eliminates odor-causing compounds. To achieve this, RYDALL OE prevents the formation of compounds such as ammonia (NH3), hydrogen sulfide (H2S), skatole (C9H9N), and mercaptan (CH4S). The product can be applied in various situations, including:
Odor control in waste management, sludge treatment
Odor control in decomposition processes
Application in detoxification systems and solid waste treatment facilities
In addition, RYDALL OE has outstanding features, including:
Quick and effective odor elimination
Biodegradable and environmentally friendly
Naturally derived, ensuring safety during use
Free from bacteria, non-toxic to humans, animals, and plants
Non-toxic gases, non-allergenic
Safe even at high concentrations
Non-flammable, non-corrosive to metals, concrete, and plastics
Industrial coil cleaner – COIL CLEANER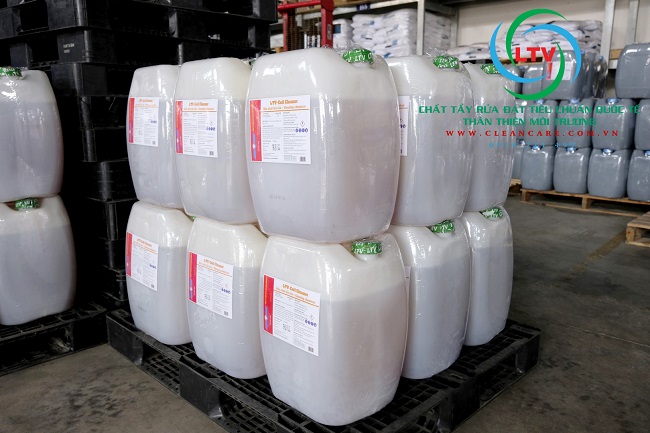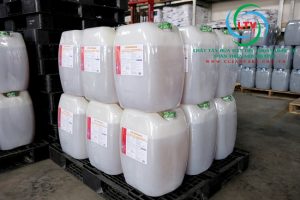 COIL CLEANER is a cleaning agent formulated with surfactants, detergents, foaming agents, and other additives to enhance its effectiveness.
COIL CLEANER can be used for:
Removing dirt, debris, and accumulated oil and grease on the surface of coils (heat exchanger tubes) in systems
Removing dirt, dust, oil, grease, and built-up residue on fan blades and other surfaces of cooling systems
Cleaning metal surfaces in cooling systems and other industrial electronic equipment
Using specialized coil cleaner can help:
Extend the lifespan of equipment, improve air quality, and save energy
Improve cooling efficiency and reduce energy consumption
With its excellent cleaning properties, COIL CLEANER is a useful product for maintaining and cleaning air conditioning systems and refrigeration compressors. However, proper usage and adherence to safety instructions on the packaging are essential to avoid health and environmental hazards.
Industrial equipment cleaner for dirt and grease – LTV O5204
LTV O5204 is a specialized cleaning chemical used to remove deposits, grease, and other dirt from industrial equipment and machinery. With its effective cleaning ability, LTV O5204 can be applied in various fields, including: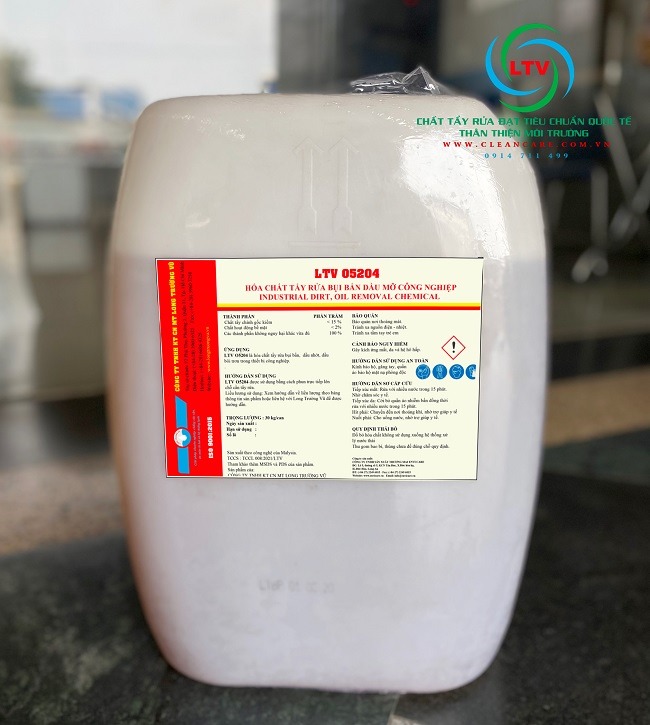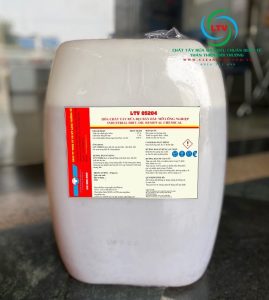 Lubricant cleaning for machinery in the textile industry, such as sewing machines and weaving machines
Removing heavy grease deposits in industrial equipment such as air compressors, machinery in mechanical engineering factories, and maintenance workshops
Cleaning acid fume residues on plastic walls, effectively cleaning the surface
LTV O5204 has powerful and efficient cleaning capabilities. However, to use it effectively, proper dilution and application according to the instructions are necessary. Additionally, users should wear appropriate protective gear when handling this chemical.
Industrial heat exchanger equipment cleaner – LTV O5304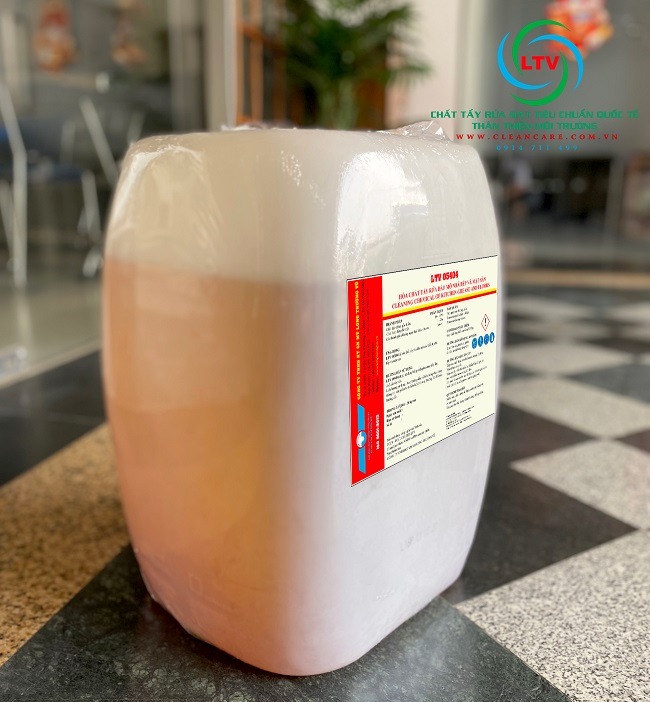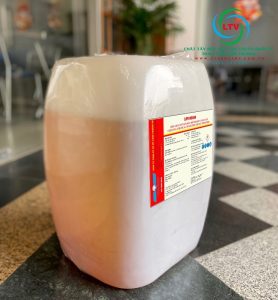 LTV O5304 is an industrial cleaning chemical specially formulated for surface cleaning of heat exchanger equipment. It is one of the best-selling products manufactured by Long Trường Vũ.
LTV O5304 is light brown in color and contains a biodegradable dispersing mixture. The product can quickly remove dust, adhesive oil and grease on equipment surfaces such as AHU, FCU, chillers, etc. Additionally, LTV O5304 is also applied in:
Factories and plants in the cement production industry
Businesses installing cooling systems with AHU, FCU, etc.
Bottled water and beverage production plants
Removing stubborn oil and grease deposits on heat exchanger grids of transportation vehicles and generators
With guaranteed quality and effective cleaning features, LTV O5304 is highly regarded in the cleaning chemical industry. Long Trường Vũ commits to providing customer satisfaction and ensuring product quality. To ensure efficient heat exchange equipment operation and prolonged lifespan, choose LTV O5304.
Kitchen grease cleaner – LTV O5404
LTV O5404 is an industrial cleaning chemical specifically designed for kitchen and floor cleaning. This product is manufactured by Long Trường Vũ, one of the reputable chemical manufacturers in Vietnam.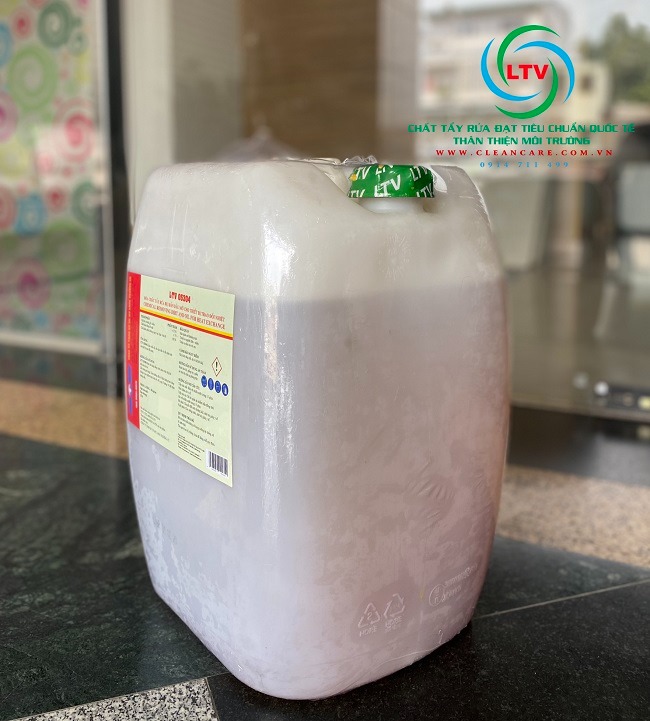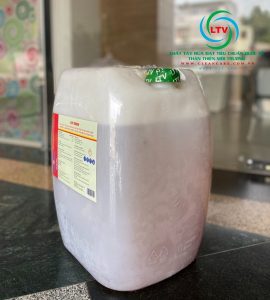 LTV O5404 is a light brown liquid that contains a biodegradable dispersing mixture. It can quickly remove dirt, grease, and stains from kitchen equipment surfaces. Additionally, it is also used for:
Removing dirt, grease from floors
Cleaning cement, concrete stains on various surfaces
Cleaning oil and grease on range hoods, stoves, plastic walls, shelves, tables, chairs, etc.
Removing residual oil and grease on kitchen equipment
With its powerful cleaning ability, LTV O5404 makes kitchen cleaning easier and faster. The product deeply cleans surfaces and minimizes odors, creating a fresh and clean kitchen environment.
To use this product, users simply need to mix it with water in the specified ratio. Then, use a cloth or brush to clean the surface. Finally, rinse the surface with clean water.
Notes on using industrial cleaning chemicals
To use cleaning chemicals effectively and safely, users should consider the following:
Understand the usage and features of the product to enhance cleaning effectiveness without affecting the equipment surface.
Dilute the chemical according to the specified ratio, preferably following the usage instructions.
Choose the appropriate cleaning chemical for the equipment surface to avoid damage.
Prioritize the use of mild and safe cleaning chemicals.
Learn how to handle chemical accidents during usage.
Follow proper safety regulations and use personal protective equipment to ensure safety.
Additionally, users should also be aware of the following characteristics of cleaning chemicals:
Cleaning chemicals are useful and necessary products, but misusing them can have adverse effects.
Avoid excessive and uncontrolled use of chemicals.
Store cleaning chemicals in a dry and well-ventilated environment, away from moisture and mold.
Keep out of reach of children.
Choose a reputable company when purchasing industrial cleaning chemicals.
Long Trường Vũ is a trusted supplier of industrial cleaning chemicals, serving various businesses and factories for over 20 years. Long Trường Vũ provides high-quality cleaning products and excellent customer service. The company ensures that all cleaning products are accompanied by clear documentation, meet safety and high-quality standards, and guarantee the health and environment.
Long Trường Vũ offers a diverse range of products, including:
Cleaning chemicals for industrial equipment and machinery
Kitchen and floor grease removers
Heat exchanger oil and grease removers for AHU, FCU, chiller fans, etc.
Residue and grease removers for various surfaces
Boiler descaling chemicals with biodegradable properties
Odor control, disinfection, and cleaning for farms and industrial waste areas
With a focus on customer satisfaction, Long Trường Vũ is always ready to provide free consultation to help customers choose and use cleaning products effectively.
When it comes to industrial cleaning chemicals, ensuring quality and reliability is crucial. Therefore, Long Trường Vũ is committed to offering high-quality products at competitive prices in the market. If you have any questions or requests, please contact our hotline at 0914 711 499 for dedicated advice!